Posted by webmaster in Calendar, Entertainment, IMessenger Feed, Upcoming Event
All Roads Lead to Nashville for the Inaugural HBCUstory Symposium
Nashville-Based 
HBCUSTORY, Inc.
 in partnership with the Nashville Public Library and the Nashville Public Library Foundation, will host the 2013 HBCUStory Symposium on Saturday, April 27, 2013. The keynote speaker for this historic event will be none other than Michael J. Sorell, Esq., President of
Paul Quinn College
in Dallas. Sorell is credited with his school's incredible turnaround in recent years. The convenor is Crystal A. deGregory, Ph.D., HBCUStory's founder and executive editor. Celebrating over one hundred years of Historically Black Colleges and Universities, the 2013 HBCUstory Symposium themed 
"Inspiring Stories of the Past and Present, For Our Future"
 offers a chance to hear fresh voices and new ideas from 15 scholars from across the nation.
"Historically Black Colleges and Universities (HBCUs) have produced some of most important African-American voices of our time as well as those of bygone eras. As we continue to move forward, our annual symposium gives members and newcomers alike a chance to listen, learn and think on some of the most important issues facing HBCUs and the African-American community."
Note: Only a limited number of event-day registrations will be allowed, so reserve your spot as early as possible!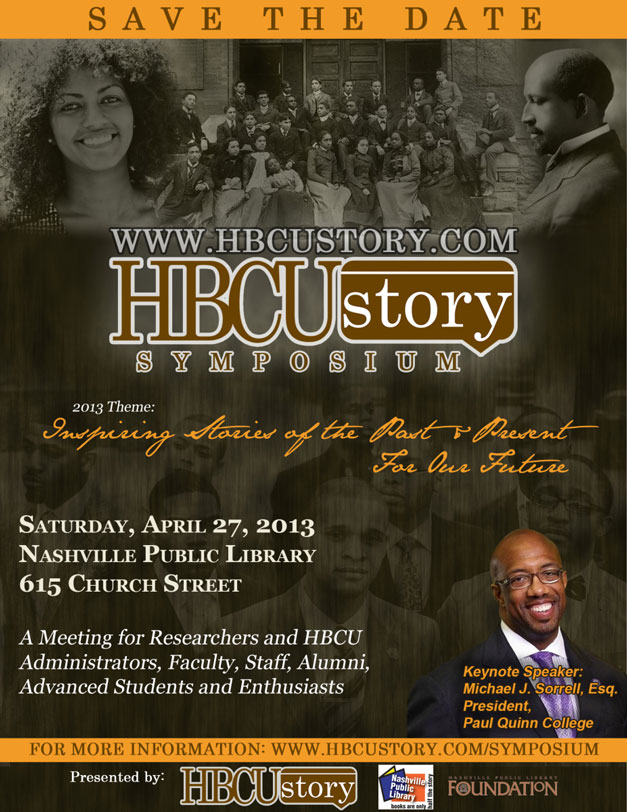 Related articles